Guest post by Jeff Mosenkis of Innovations for Poverty Action.
In a clever online nudging experiment, 627,000 online taxpayers in Guatemala were given one of five different kinds of honesty messages, reminders about public goods, or legal warnings in a captcha. But none of the messages had any effect on taxes paid.
Some unexpected side effects of antimalarial insecticide-treated bednets (ITNs):
We show that ITNs reduced all-cause child mortality, but surprisingly increased total fertility rates in spite of reduced desire for children and increased contraceptive use. We explain this paradox by showing evidence for an unexpected increase in fecundity and sexual activity due to the better health environment after the ITN distribution. (h/t Charles Kenny)
If you want to work with Chris Blattman and a bunch of other great researchers, apply to lead IPA's Colombia and Dominican Republic Office.
After listening to the latest Freakonomics podcast on managed vs. index funds, a listener came up with this simulation/slider you can show your friends to explain to them how management fees are killing their retirement savings.
The National Science Foundation has a big new report on what happens to new Ph.D.s. While the overall number of doctorates awarded has grown, the percentage with definite plans after they graduate has been shrinking in recent years: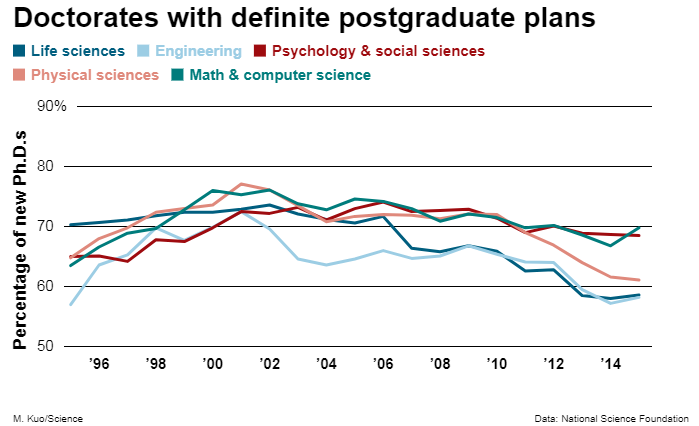 Kenya has declared Kenyan-born Asians (e.g. Kenyans of Indian and other descent who've been in the country for generations) an official Kenyan tribe. But it's not clear if that's really a good sign.
Reason to test policies first #5,692: Economist Jennifer Doleac explains in Quartz what happens when well-intentioned states banned employers from asking applicants about criminal records. Employers hired fewer minority applicants in general (presumably increasing discriminating on more observable markers). It also doesn't help the applicants with criminal records.
Every summer, the National Bureau of Economic Research conducts its own clever behavioral economics experiment to see if they can get top economists excited over reducing the price of readily available trinkets from a nominal fee to free. Let's check in and see how it's going this year:
Totes excited to get this party started #NBERSI pic.twitter.com/sBcCJzm64H

— Amanda Agan (@AmandaYAgan) July 26, 2017
When you get a conference tote bag: pic.twitter.com/gRQ20owiGh

— Damon Jones (@nomadj1s) July 24, 2017
Nice twist NBER!
https://twitter.com/Austan_Goolsbee/status/890326876492791808
https://twitter.com/DavidSkarbek/status/890249475079458818
The scoop was my favorite

— Leah Boustan (@leah_boustan) July 24, 2017
And Leah's survey got 100 responses
If #NBERSI could bring back one gift from past, it would be:

— Leah Boustan (@leah_boustan) July 27, 2017
Can't wait for the paper, NBER! (Though Dina might have contaminated the study design.)  Apparently other stuff went on also, but you can get links to the live tweet threads from Damon here.
And finally this helpful reminder (from Jennfier Doleac again) for summer travelers (click through for the reply):
Memories from econ summer camp #NBERSI
h/t @scottimberman pic.twitter.com/IUzEL3g4O3

— Jennifer Doleac (@jenniferdoleac) July 23, 2017