Why did Russia attack Ukraine?
Will China invade Taiwan and launch WWIII?
Why has the number of civil wars reached their highest level in decades?
Why are so many cities in the Americas plagued with violence?
And finally, what can any of us do about it?
It feels like we're surrounded by violence. Each conflict seems unique and insoluble. With a reason for every war and a war for every reason, what hope is there for peace?
Fortunately, it's simpler than that. Why We Fight boils down decades of economics, political science, psychology, and real-world interventions, giving us some counterintuitive answers to the question of war. 
The first is that most of the time we don't fight. Around the world, there are millions of hostile rivalries, yet only a fraction erupt into violence. Most enemies loathe one another in peace. The reason is simple: war is too costly to fight. It's the worst way to settle our differences.
In those rare instances when fighting ensues, that means we have to ask ourselves: What kept rivals from the normal, grudging compromise? The answer is always the same: It's because a society or its leaders ignored those costs of war, or were willing to pay them.
Why We Fight shows that there are just five ways this happens. From warring states to street gangs, ethnic groups and religious sects to political factions, Christopher Blattman shows that there are five reasons why violent conflict occasionally wins over compromise.
Through Blattman's time studying Medellín, Chicago, Liberia, Northern Ireland, and more, we learn the common logics driving vainglorious monarchs, dictators, mobs, pilots, football hooligans, ancient peoples, and fanatics. Why We Fight shows that war isn't a series of errors, accidents, and emotions gone awry. There are underlying strategic, ideological, and institutional forces that are too often overlooked.
So how to get to peace? Blattman shows that societies are surprisingly good at interrupting and ending violence when they want to—even gangs do it. The best peacemakers tackle the five reasons, shifting incentives away from violence and getting rivals back to dealmaking. And they do so through tinkering, not transformation.
Realistic and optimistic, this is a book that lends new meaning to the adage "Give peace a chance."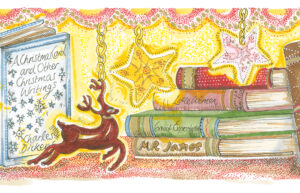 Journalist and foreign correspondent Michela Wrong chooses Why We Fight
Read More »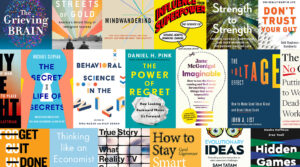 Behavioral Scientist recommends Why We FIght
Read More »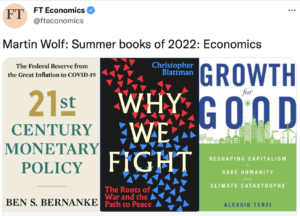 Martin Wolf selects his best mid-year reads in economics
Read More »
"Full of practical tips for incremental peace-building… Blattman has produced a valuable guide, supported by engaging anecdotes, to what makes people turn to violence—and why, mercifully, they are usually too sensible to do so."
"An outstanding and original book on this topic. Blattman turns what most of us think about violence on its head."
"Almost at the very moment that 'Why We Fight, was published, its conclusions were being put to a grim real-world test as Vladimir Putin's Russia invaded Ukraine. Mr. Blattman's list of war's precipitating causes seems to fit the case well."
"To fully grasp the workings of conflict and war, read this book. You will carry the lessons with you."
"Blattman takes on fighting at every level, from local beatings to world war, offering eye-opening examples of escalation. But perhaps his most salient point is this: "There is seldom one reason for a war." It's a relevant, urgent new study."
"Blattman moves from Colombian prisons, to Liberian plantations and American streets with an economist's eye for numbers and the instincts of an ethnographer—noticing the incongruous and counter-intuitive structures that deliver peace unexpectedly in the most violent of contexts."
"Blattman shows us things we don't normally see, and takes us to places we might be terrified to go. A captivating and intelligent book"
"A bracing look at the many reasons nations go to war."
"Humanity is still mired in wars and deadly conflicts. Avoiding the useless dichotomies that either claim violence is an inseparable part of human nature or declare that humanity has all but conquered its proclivity to war, Blattman explains how human communities make use of many different strategies to resolve conflicts, and why these efforts sometimes stumble."
"This stimulating discussion of violence illuminates a fraught subject with sober reason."
"Engaging and profound, this deeply searching book explains the true origins of warfare, and it illustrates the ways that, despite some contrary appearances, human beings are capable of great goodness"
"A surprisingly and refreshingly optimistic book, one that deserves a place both on living room and diplomats' shelves."
"An important, radical book which leaves you hopeful that peace is not a dream and conflict is not inevitable."
"The most important book on this most important topic."
"Economists imagine that people in poor countries wake up every day worrying that they are poor. Maybe, but more fundamentally they are insecure and subject to violence. Foregrounding this most basic human problem is essential for understanding the world we live in today."
"Blattman provides a vital new perspective on the problems of conflict, by applying analytical methods from economics and political science to his extensive research in communities that have been plagued by violence."
"Blattman is the go-to social scientist on war. His insights are essential reading."
"After Afghanistan, we need a better understanding of conflict. This book is timely and has a powerful and hopeful message: the usual human state is peaceful."
"Why We Fight not only reflects Blattman's expertise in economics, political science, and history, it also introduces us an intriguing range of characters and locations. We meet a warlord from Liberia called White Flower, and in the same chapter learn why George Washington became America's wealthiest President. Blattman is a great storyteller, with important insights for us all."
"If you want to understand the backdrop to the Ukraine war or any war, check out Chris Blattman's important new book."
"My visit to Iraq left me pondering why the trajectories of Mosul and Ramadi are so different – and what the future of the country might hold. In Christopher Blattman's 'Why We Fight' I found a fresh lens through which to analyse the country."
"This thoughtful and well-written book... written informally as a conversation between reader and author, provides a clear, concise way of thinking about human conflict, even as Putin's war reminds us of the persistence of the problem.
If you've been a foreign correspondent for any length of time you end up wondering what has pushed so many of the societies you cover into conflict and what can be done to prevent a repeat. Why We Fight answers many of those questions. An optimistic book and an accessible style.
NY Times' Eduardo Porter interviews Chris
Raj Kumar of Devex' interviews Chris at the U.S. Institute of Peace