A friend asked me this question and I decided to turn my long email into a blog post, to somehow justify the ridiculous amount of time I spent on the email. The big buyer beware warning here is that I haven't been to Uganda in a few years, and I haven't does touristy things since 2007. So my knowledge is out of date. Hopefully readers can add and subtract in the comments.
I will begin with wildlife because that is one of the really unique and amazing aspects of East Africa. Safaris are tacky or cliche mostly to people who haven't gone. I've seen them beguile even the most cynical people, including me.

You absolutely must go to Bwindi Impenetrable Forest and do the gorilla tracking. This is an awesome tourist and conservation program, beloved by visitors as well as my conservationist and scientist friends who work there. And spending an hour with a gorilla troop is possibly one of the most memorable and amazing experiences of my life. This is partly because a silverback decided to try to intimidate me. There are few slots per day, since only three families are acclimatized to visits, and so you must book early and make this the center of your trip.

The other safari options in Uganda are quite good, but not on the same level as Bwindi. This is partly because Uganda is very forested and you do not have the magnificent savannah of Kenya or Tanzania. You have to stick to the trails rather than roam at will or see afar. I would suggest going to the best places in the world, which are not far away: Masai Mara (Serengeti on the Tanzania side) or the Ngorongoro crater in Tanzania. (I almost wrote Tora Bora crater, which is when the US hunted and shelled Bin Laden for years. Not recommended).

One place in Uganda you might consider is Kidepo Valley, up on the Sudanese border. Sometimes it is safe, sometimes it is not. I can't speak for the moment, but if hotels are operating there, it is probably fine. This is probably one of the least visited parks in the world, because for so long it was cut off by the conflict in northern Uganda. I believe it's ok now, but you should check. I went briefly, for about 20 minutes, when a small propeller plane I was flying in was diverted there during a storm. There were no hotels or development at the time, and not much of a runway. Scores of very surprised animals cleared the way for our landing. I have always wanted to go back for a proper visit.

When it comes to game parks, I also love Kenya for some of it's unique places, like Hell's Gate, where there are no predators, so you can bike instead of drive.

That said there are excellent parks in Uganda to go to, and they tend to be less touristed than Kenya, which I like.Murchison Falls includes a lot of hippo and crocodiles, and is beautiful. Queen Elizabeth park is close to Bwindi, and is remarkable for having lions sleeping in trees (the only place in the world apparently). For example, this from immediately underneath the tree, in our land cruiser: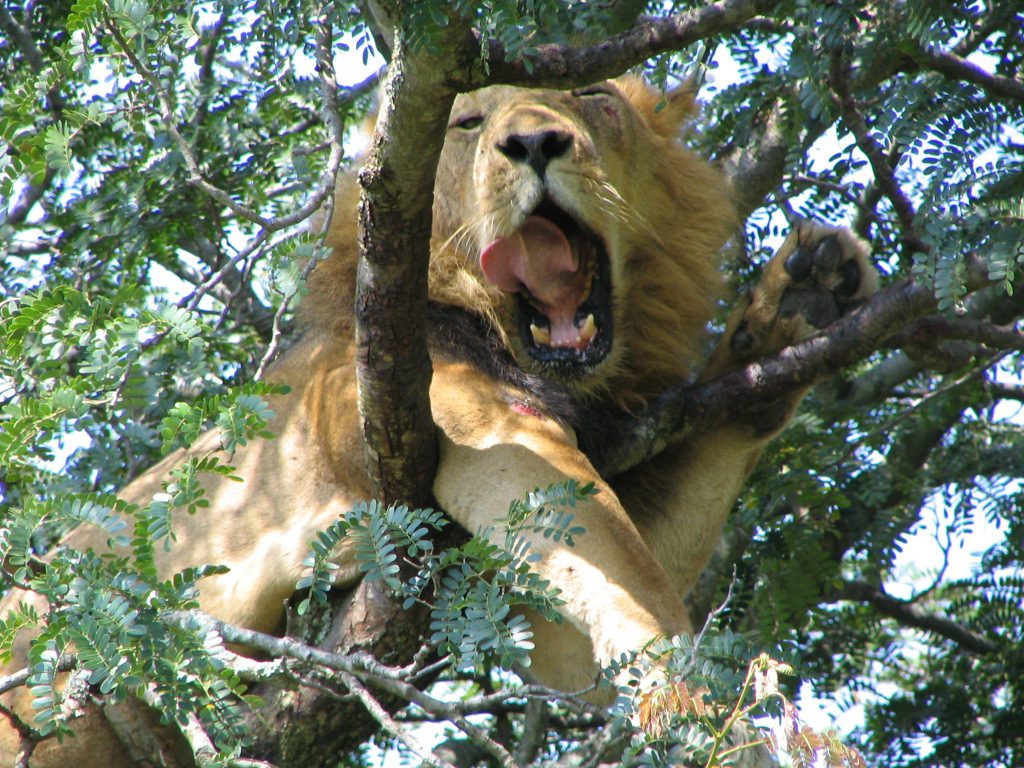 I really recommend driving yourself if you feel up to driving on the left (or, as in my case, are married to someone with a Ugandan driver's license). This is easiest in small parks like those in Uganda, or Nakuru and Naivasha in Kenya (which I attempted and enjoyed). There is a big difference between being a passenger and learning to navigate yourself around giraffe and buffalo. Here, for example, is me and Jeannie in a parking lot, trying to figure out how to get past this hippo and into our car. They are fast and aggressive and we are trying to plot our next move.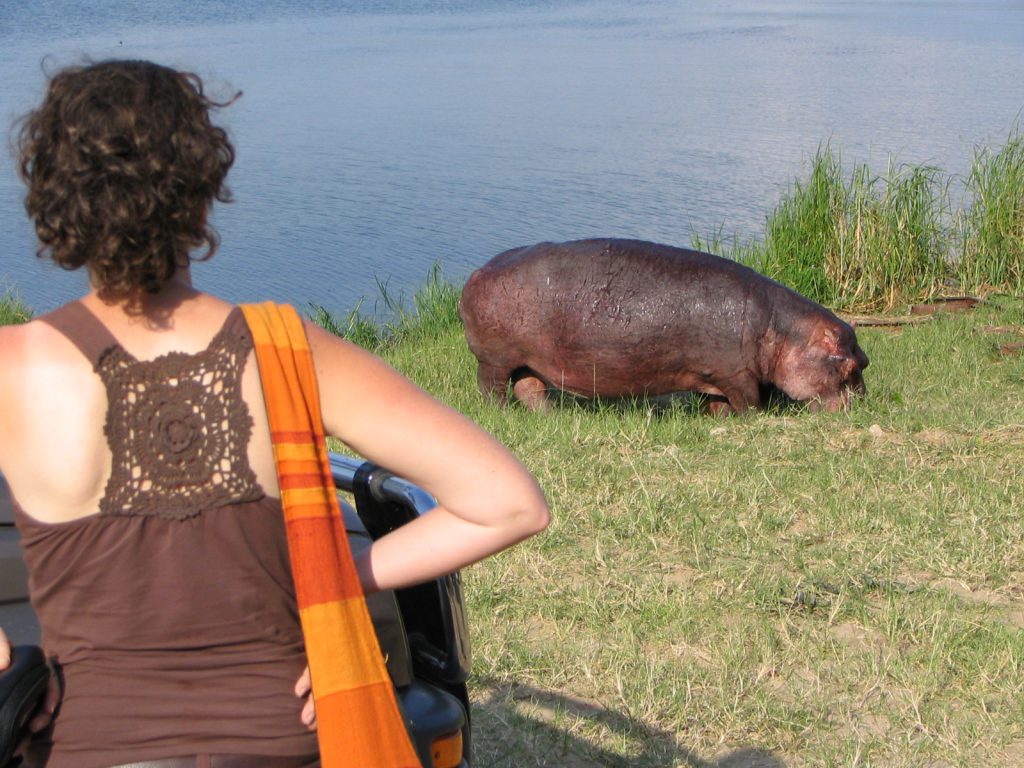 Getting away from the safari parks, there are a few other highlights.
Bushara Island Lodge is a little place with what I'd call luxury tents, on an island in a lake far in the southwest of Uganda. It's owned by the Church of Uganda, and very close to Bwindi. Ten years ago it was one of the most peaceful little places I ever visited, and I relaxed and swam and canoed and read many books. For example: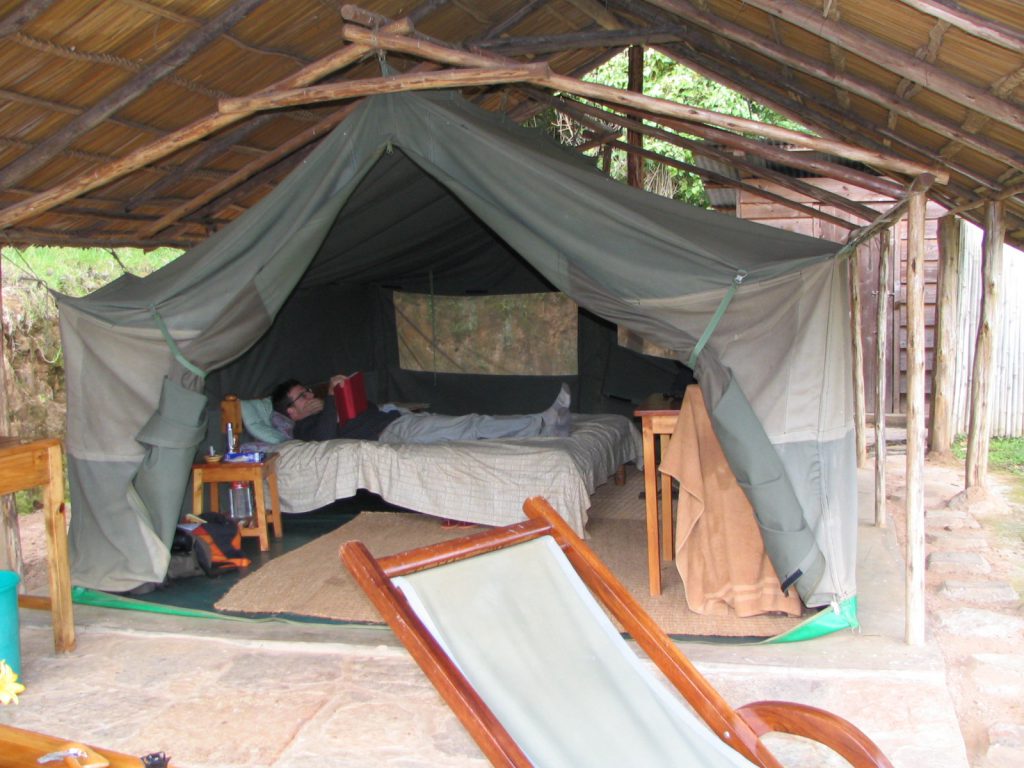 We also stayed on a little isolated lodge on a crater lake near Fort Portal, also not so far from Bwindi (or Queen Elizabeth park). It's been ten years and also now seems to be 

a bit more developed

, but well rated. We rented bikes from some random person and biked through the foothills of the Rwenzori mountains. They were the classic east Africa bikes made from steel, nonexistent brakes, no gears, and looking like something from 1920, and my hands were bruised from all the bumps for about a week. It was great.

I imagine you can also do trekking in the Rwenzori mountains but we never tried. A lot of people trek Mount Kenya. I personally am not a mountaineer. I like hiking flat or hilly surfaces or climbing vertical surfaces but things in between aren't my thing.

I never did the whitewater rafting on the Nile. I was not impressed with the safety record, and frankly figured I could do world class rafting in a lot of places if I really wanted to. I'd rather spend my time in East Africa doing what can't easily be done elsewhere.

For instance, if you do broaden the trip to East Africa at large, some of the coastal towns and islands are terrific. Lamu and Zanzibar come to mind, though they might have become more touristed since I was there. (My last big Kenya/Tanzania tourism stint was shortly after someone tried to blow up an Israeli passenger plane in Kenya, so I had nearly every place to myself.)

Hiking the waterfalls around Sipi in eastern Uganda was nice but nothing special. If you lived in Kampala I'd say it's a great weekend trip but not worth going around the world to see.

What about Kampala? I loved my stays there, but find it hard to recommend the city to a short term tourist. If it weren't for the traffic it would be a nice place to live (and was) but there's not much to see. I didn't discover a great music scene (possibly my failing) and I never toured the historical sites to do with the historical Buganda kingdom, and those could be interesting. But I think the best site burned down and I'm not sure what's left. 

I personally love economic and political tourism. My work mostly involves figuring out how different businesses work, or how different political systems work. I don't really know how to do this as a tourist. but if you're biking around the countryside (in my Rwenzori example above) then stop and ask people to show you their farms. Or talk to people in the markets about business and how it works.
Finally I always suggest avoiding any slum or refugee/displacement camp tourism. I don't think there are many opportunities in Uganda. But I have sick memories of crowds, sometimes busloads, of tourists and church groups on day tours of displacement camps in Uganda after the war. Some "slum tours" have redeeming features (graffiti tours in Medellin come to mind) but these are the exception.
Culturally I will give a few recommendations:
Get someone to teach you to play Omweso, a traditional Ugandan board game. It's a lot of fun. You'll see the boards around.

See if someone will take you to their church on Sunday, especially if it has lively singing. This is a really important part of life and can be really enjoyable. Of course some are also four hours long and hot and miserable. You never know what you're going to get.

Book-wise, I always liked the novel Abyssinian Chronicles by Moses Isegawa. But there are surprisingly few Ugandan authors compared to Kenya or Ethiopia. Even though I'm not a big fan of President Museveni, I did enjoy his war memoir, Sowing the Mustard Seed.
I really wish public intellectual Andrew Mwenda would write a book about development. It's hard to point to an article that captures his charm, cleverness and playfulness. You should pick up his magazine The Independent. Here is his TED talk. Here is his blog, which is very Uganda specific. He is best on radio.

For food, Ugandan cuisine is fairly simple but I really love it.

In south/central parts of the country, any local fish in the groundnut (peanut) sauce, with matoke (mashed plantain) is probably excellent.

I always loved northern food the most, though it's hard it find outside the north (maybe around Murchison). This includes greens or other vegetables stewed in sim sim (sesame) paste or groundnut sauce.

The beans and chapati are always good, and I like to eat with fresh avocado chopped in.

Season everything with the only seasonings available: salt and (if you ask for it) piri-piri (little red peppers that some restaurants keep in the back for such requests).

I also love the street food, including the guys on the main highway. My only gastrointestinal problems have come from restaurants. Street favorites include goat skewers, grilled maize, samosas, or rolex (chapati rolled with eggs, onion and tomato).

If you're there in grasshopper or termite or white ant season, the fried bugs are actually super delicious. And I say this as someone who would not normally eat a fried bug. Finally, once you have the small sweet bananas of Uganda (only about 4 inches long) you will never enjoy a US banana again.

No Ugandan I know thinks restaurant food is any good compared to home cooking. If someone invites you to their home, accept.