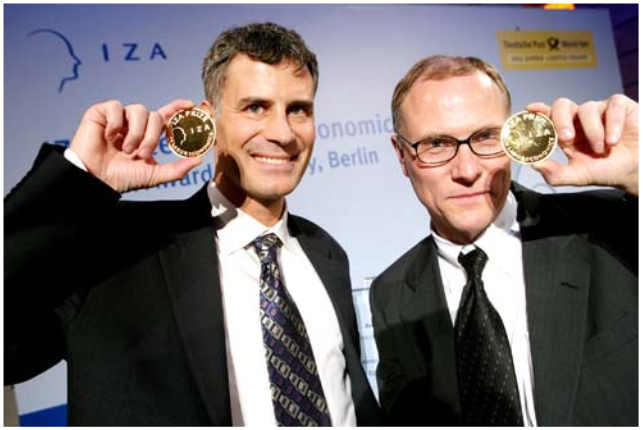 A simply fantastic interview with Berkeley's David Card and Princeton's Alan Krueger on the Equitable Growth blog:
Card: Right. And you mentioned research design. I remember Alan was an assistant professor and I was a professor at Princeton and Alan sat next to me. And he, for some reason, got a subscription to the New England Journal of Medicine. (Laughter.) And —

Zipperer: Intentionally?

Krueger: Yeah. I loved reading the New England Journal of Medicine.

Card: Yeah. And the New England Journal would come in every week, so there was a lot of stuff to read. And the beginning of each article would have "research design."

Krueger: And "methods."

Card: Yes, and if you've never seen that before and you were educated as an economist in the 1970s  or 1980s, that just didn't make any sense. What is research design? And I remember one time I said, "I don't think my papers have a research design."

And so that whole set of terms entered economics as a result of those kinds of changes in orientation. But I would say that another thing that happened was that Bob LaLonde got a pretty good job and his paper got a lot of attention. And then Josh Angrist, again following up a suggestion from Orley to look at the Vietnam draft—that paper got a lot of attention. And it looked like there was a market, in a way, for this new style of work. It's not like we were trying to sell something that no one wanted. There was actually a market out there generally, in the labor economics field, at least.
And now it has been fetishized. That's not necessarily a bad thing. But then I was raised in the cult.
I wonder if interviews like these predict the apocalypse? Something is just so dominant, it looks like it can never fall. And suddenly it does.
Hat tip to Suresh Naidu.