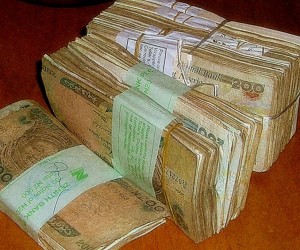 It's a business plan competition for $50,000, and I think it's a contender.
In 2011 the Nigerian government handed out 60 million dollars to about 1200 entrepreneurs, and three years later there are hundreds more new companies, generating tons of profit, and employing about 7000 new people.
David McKenzie did the incredible study.
24,000 Nigerians applied, the government selected about 6,000 to get some training and advice to develop their plan, the plans were scored, and about 1,200 were funded. They got an average of $50,000 each. Fifty thousand US dollars! Who the hell thought this was a good idea?
All the highest scoring plans got funded automatically, but McKenzie worked with the government to randomize among the runners up.
The results are amazing. Looking just at the people who had no firm to begin with, 54% of the control group have a firm after three years, compared to 93% of those who got the grant. And these firms are bigger. Just 11% of the control group have a firm with at least 10 employees, compared to 34% of those who got the grant. They're more profitable too.
If you are the President of a developing country, one of the great problems that will occupy your thoughts is: how to get more people jobs? How to grow domestic businesses? Even I, Mr. Cash, did not think big grants would be the answer.
These entrepreneurs are not the deserving poor, to be sure, but the employees are more likely to be. They made $143 a month, so they probably weren't the poorest of society. But 7000 people earning $7 a day they might not have earned otherwise—that is something. And this ignores the multiplier: the expansion of suppliers, the people employed by the 7000 employees spending that money, the taxes collected by the state, and so on.
Two other things occur to me:
What if, in 10 years, we learn that after all the struggle to build infrastructure and services and other stuff was bullshit, and ALL ALONG we should have just been funneling more cash to the middle and bottom. I do not believe the cashonistas should go so far, but today I wonder.
I should start responding to all the emails I get from Nigerians promising me $50,000 in cash.