Guest post by Jeff Mosenkis of Innovations for Poverty Action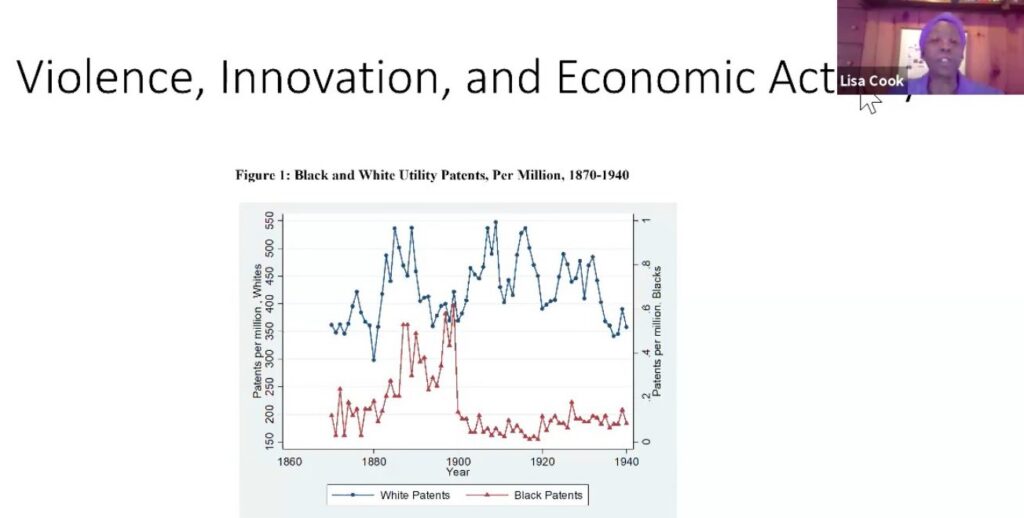 Professor Lisa Cook explains that black and white inventors put in equivalent numbers of patent applications once in 1899, and never again. 
If you haven't seen it yet, this was a great explanation for the general US culture:
Kimberly Jones' Monopoly game metaphor reminds me of this Howard French brilliant deconstruction of a UK historian's book (gated, sorry) about African history.  French shows that Europeans destroyed sophisticated civilizations and hollowed out countries' populations for hundreds of years by dragging away the workforce, and today cast about for roundabout theories for why

they're "underdeveloped" 

I'm side-eyeing historians, but also hard to ignore the asymmetry in where development economists' ideas come from, and the assumption that countries where the rich people are also must know how to get rich.
Along those lines, here's a great piece by Francesco Loiacono, Mariajose Silva-Vargas, & Apollo Tumusiime (written before the pandemic) about how research designs can be more sensitive and less biased by the views of the researchers (better informed consent, for example, and not assuming their programs happen in a vacuum, or realizing that local politicians may swoop in and take credit for cash transfers). (h/t David McKenzie's links)
Today, I learned that the UK's abolition of slavery was accomplished through paying the slaveowners for their lost "property," to the tune of today's $17 Billion (and requiring an additional 5 years of unpaid labor, which I feel like there's a name for…) British taxpayers just finished paying back that borrowed money in 2015, which means that descendants of slaves have been paying back their own ancestors' slavemasters.
Jennifer Doleac put together a series of flash webinars on policing research, more info here.
A series of simple police reform ideas in this article and tweet thread on how to fix many policing problems by looking at financial incentives, moving the benefit of the "taxes" levied disproportionally on the poor by the criminal justice system away from the local municipalities (revenues from fines, seized assets, and the like) and redistributing them at the state level, prioritizing the poor.