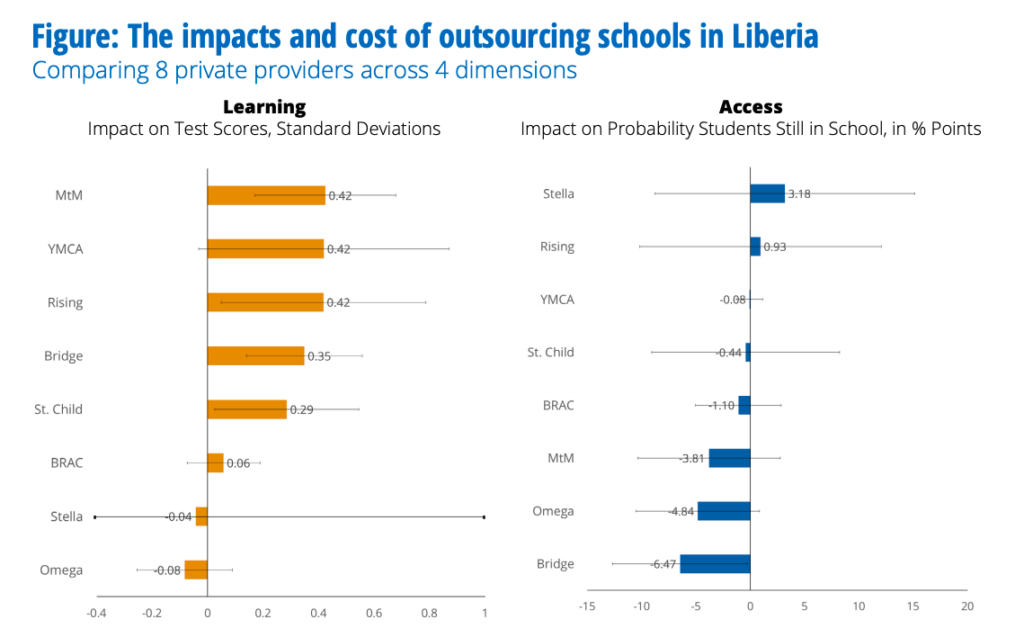 Guest post by Jeff Mosenkis of Innovations for Poverty Action.
A few years ago, Liberia, whose educational system has been troubled to say the least, tried an experiment. In the face of under-resourced and underperforming public schools, they wondered if private education providers could run public schools better than the government was? The country announced that it was going to outsource the whole country's schools to one American company, but after public outcry the plan was scaled back to pilot and included a randomized evaluation with three private and five non-profit school operators running different test schools.
Now the three-year evaluation results, from Mauricio Romero and Justin Sandefur (conducted with my IPA colleagues in Liberia), are out: short summary, 3ish page brief & full paper. On average, results were not stunning (students from the privately-run schools read about 3 words a minute more in English after 3 years than their peers in the business-as-usual public schools), and though corporal punishment went down a bit, sexual abuse of children did not.
Bridge International Academies, the company originally slated to run the whole country's schools, had the largest number of schools in the pilot. It achieved on par results by kicking out several hundred students and the majority of teachers – leading school dropout rates to increase by nearly half over three years – and also cost more than twice the per pupil cost of the next most expensive operator. Justin summarizes the whole thing in a helpful twitter thread here. Bridge's head of research responded here arguing as far as I can tell, that if you only look at the third of the students who stayed in their schools, their results look much better.
On the other hand, if you look across operators, some clearly did better than others, which is also encouraging. At least to me it suggests the model might be possible under the right circumstances. As always, the devil's in the details. Quartz reports on it here.
World Development quickly put together a special symposium issue on RCTs in development with lots of interesting-looking perspectives (gated unfortunately), but editor Arun Agrawal gives helpful single tweet summaries of each one in this thread.
Sir Fazle Hasan Abed, the founder of BRAC, the world's largest NGO, and a pioneer in the field, has passed away.
Ugo Gentilini had over a thousand papers this year in his weekly social protection links, he summarizes his favorites in 10 categories (e.g., cash, gender, crime)
Great podcasts:

Last week I talked about the government putting up hurdles for the poor getting food stamps and school lunches. Georgetown's Pamela Herd and Don Moynihan have a whole book on "administrative burdens," how governments (often states) put up unnecessary bureaucracy to prevent people from getting benefits they're entitled to, often as a way around doing it legislatively (behavioral economists think of this as the opposite of a nudge, "sludge.") Some of their work is inspired by the revelations they experienced trying to get benefits for their disabled daughter. They had a great conversation on The Weeds, but make sure you take your blood pressure medication first and there's nothing breakable nearby. (Although a positive update, soon after that came out, Kentucky's governor ended that state's Medicaid work requirement)
Tyler Cowen has great interviews with Esther Duflo (Apple), and Samantha Power (Apple)
The Indicator has Lisa D. Cook and Anna Gifty Opoku-Agyeman talking about how economics excludes black women (Apple), here's their NYTimes op-ed about it.

Some impressive data journalism from the NYTimes, who received a data set with 50 billion cell phone locations, tracked by a private company. They were able to identify semi-public figures, like a senior Department of Defense official at the Women's March on the National Mall. The point of the piece is that the collection and use of this data is largely unregulated.
This is probably the last links of the year (decade I guess?). Thanks again to everybody for reading, to Chris and to IPA for continuing to afford me the opportunity, and particularly to my colleague Cara Vu for editing them weekly. I'm looking forward to an informative 2020!