Guest post by Jeff Mosenkis of Innovations for Poverty Action.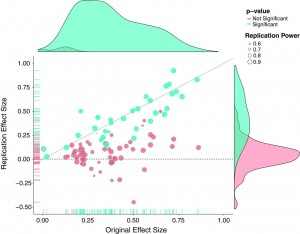 47% of original effect sizes were in the 95% confidence interval of the replication effect size; 39% of effects were subjectively rated to have replicated the original result; and if no bias in original results is assumed, combining original and replication results left 68% with statistically significant effects.
And a new visualization tool lets you play with data to show how moving data points (even one outlier) changes a correlation and variance overlap.