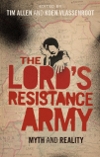 With a few notable exceptions, international news reporters have been interested in telling adventure stories about their attempts to interview Kony; or have tended to concentrate on the more bizarre aspects of both the war and the peace negotiations; or focus on specific issues — such as the hundreds of children who used to migrate into Gulu …in the evenings, where they could be easily filmed and interviewed.

Few have seriously investigated how and why events have occurred.
That is Tim Allen and Koen Vlassenroot introducing The Lord's Resistance Army: Myth and Reality, in which nineteen scholars try to combat the worst myths and misunderstandings of the war.
It's essential reading for those interested in the war (and I say that not simply because Jeannie and I have a chapter on the experiences of abductees).
The essays are uniformly excellent, but sadly there's not an Acholi contributor to the mix. This older volume collects some Ugandan accounts. See also my northern Uganda recommended reading list.