Just who is this cute little girl?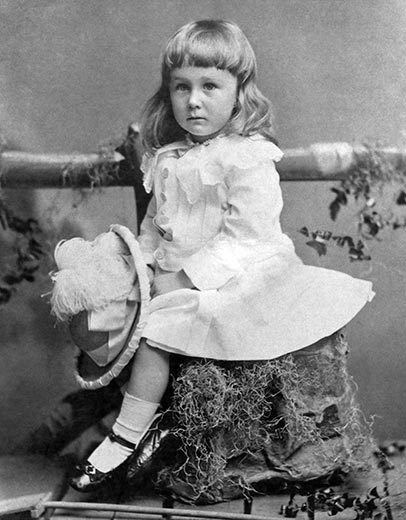 Little Franklin Delano Roosevelt sits primly on a stool, his white skirt spread smoothly over his lap, his hands clasping a hat trimmed with a marabou feather. Shoulder-length hair and patent leather party shoes complete the ensemble.

We find the look unsettling today, yet social convention of 1884, when FDR was photographed at age 2 1/2, dictated that boys wore dresses until age 6 or 7, also the time of their first haircut. Franklin's outfit was considered gender-neutral.
The Smithsonian discusses changing gender norms, especially the origins of pink and blue.
The march toward gender-specific clothes was neither linear nor rapid. Pink and blue arrived, along with other pastels, as colors for babies in the mid-19th century, yet the two colors were not promoted as gender signifiers until just before World War I—and even then, it took time for popular culture to sort things out.

For example, a June 1918 article from the trade publication Earnshaw's Infants' Department said, "The generally accepted rule is pink for the boys, and blue for the girls. The reason is that pink, being a more decided and stronger color, is more suitable for the boy, while blue, which is more delicate and dainty, is prettier for the girl."
Hat tip to one of my favorite blogs, which you probably don't read but should.