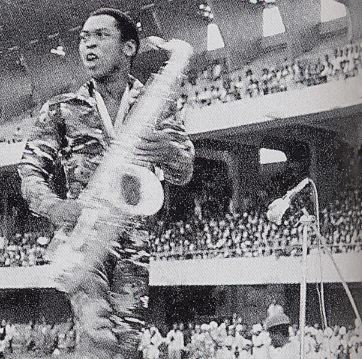 Fela Kuti is a sacred monster, and no progressive, democratic-leaning society should be without one — this provocateur, this enfant terrible.
That is choreographer Bill T. Jones on the Nigerian father of Afrobeat (and political dissident) Fela Kuti. The show, Fela!, has moved off-Broadway onto it, and it is magnificent. Review here.
There's a little too much gray hair in the audience (mine included?) to fully groove in your seat. Nonetheless: go.
Fela's iTunes discography is here.
Want your full Afrobeat and West Africa funk fix? Listen to DJ Franc O's Radio Freetown show or download lost mixes and hidden finds freely from his Voodoo Funk blog. I seriously cannot recommend these mixes enough.
In the meantime, if you're in NYC and need your Afro jazz, highlife or funk fix, head to St. Nick's jazz pub in Harlem on Saturday nights. Sleep in that morning, because the (outstanding) regular show ends at 11:30 and the African artists come on at midnight. Will be there tonight…